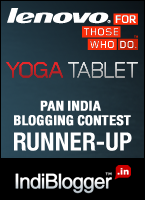 When I was in school, life was definitely lot easier than today. Although there was no Google to help in school homework, we actually had good pen and paper to write. We didn't need to charge the pen or worry about our written words getting lost just because we ran out of ink or because our pen crashed. However, that wonderful life ended with the start of the college life.
From the first year itself, we were asked to write projects in computers. Although my friends were happy that they wouldn't need to write out 4000-5000 words project, I wasn't. I was deeply in love with my books and pen. I don't know why but computers and I never got along from the very beginning (we were introduced in my 5th grade). Many times I have smashed the keys of the keyboard out of frustration and many times the computer has eaten away thousands of my words without an ounce of remorse. It was an all out war for us.
Situation worsened when I graduated and started working. My first job was in BPO and I was a customer care rep. My job profile was to offer billing email support to American customers. I started working with computers 10 hours a day. Both computer and I felt like a newly-wedded couple during that phase: two people who hated each other yet marooned with each other for life. As in any relationship, we had our ups and downs, fights and making up. However, with passage of time, we started compromising and making peace with each other.
Apart from using computers at work, I started using laptop at home for personal work. Net banking was introduced, so I started doing personal financial work online. eBooks were introduced, so I started reading them online. eCommerce shopping stores were introduced, so I started shopping online. You name it and I started doing it. However, here the point to be noted is, I used only 3 features of my laptop: browser (I love Mozilla Firefox), Word program and notepad program. I can read and shop in browser and write in Word and notepad. I was content and fulfilled.
However, good times do not always last. After bright day, comes a dark night. The same way, darkness entered in my life when my partner died one fine day. It simply didn't open its eyes. It turned blue. I took it to the emergency ward of the hospital. The doctor checked it but he too couldn't revive it. I had to bury my 5-year long partner. I went into long mourning.
Everybody told me that everything is supposed to die one day and I shouldn't mourn so much. I should think about remarriage. I was quite young at that time and it's quite difficult to spend your life alone. Or so I was told. I started thinking about potential partners. During that time, my brother had got a new Samsung tablet. As he had laptop too, he lent me his tablet for few days so that I didn't make any hasty marriage decisions.
After using laptop for years, using tablet was awkward, specifically, the keyboard part. Whenever I wanted to search for something on Google, I would end up searching for another item because I did spelling error. I found the virtual keyboard too small for writing properly.
I download few books in the tablet and started reading it the same way I used to do with my ex. Maybe the tablet came to know that I was comparing it with my ex or whatever, it started getting hanged. Scrolling and flicking pages would take ages. It killed the entire charm of reading online.
And weight. I seriously was baffled about the weight of that tablet. It was lighter than laptop but it still seemed bit heavy to me for such a small size. My ex was heftier but it was bigger. So that was justified. What about this small, heavy tablet? What excuse did it have? (I personally think the tablet was gorging on pizzas when I used to go to work. As I didn't have any proof about it, I didn't make any accusations about it.)
Anyway, I was unhappy with the tablet enough to get married to another laptop. And I am in a beautiful relationship with it right now. No regrets.
But if somebody asks me what kind of tablet would I like to use, then my wish list is quite simple.
It should be easy to handle, i.e., light in weight to carry.
It shouldn't take ages to execute simple commands, i.e., it shouldn't go on holiday in the middle of work.
The virtual keyboard should be big enough that a normal human being can use it. Alas none of us are ants, having needle-sized fingers.
It should have good staying power. I would hate it if it dies in the middle of a hot scene.
It should be great looking, sexy beast (Which man doesn't want tall, slim fair bride? So why shouldn't I want tall, dark and handsome groom?).
So do you have any potential partner in mind for me? (Mind you, I am not talking about infidelity. I just need to be ready with the replacement if need arise.) I am ready to go on a blind date if you have one. (I just won't tell my current partner about it and he wouldn't be wiser. I really don't want to hurt its feelings.)