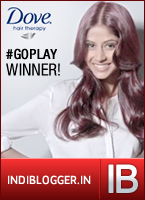 Hair! Every female frets about it. It's just that some admit it, some don't. I'm one of those who admit it. Openly. But most of the time, it's simply waste of time and energy because no amount of fretting is going to yield positive results.
I love long hair. Long and straight. When you have straight hair, it feels fantastic to try on new hairstyles. Bouncy layers remain bouncy, scattered layers look scattered and fringes look perfect. However, if you have wavy or curly hair like me, forget about hairstyles. No matter which hairstyle you choose, you will always have the same hairstyle.
I always had a dream to look like this:
But I always end up looking like this:
If you mean to tell me I should go to a good saloon using fancy hair products, I have done that. Short of going for hair straightening, I have tried it all. Let me tell you about my latest hair debacle. Recently my cousin got married, and I had serious plans for my hair. I was going to wear a saree with a sophisticated hair do. I wanted to look like this:
And I ended up looking like this:
The reason being? My hair refused to stay straight for the bun. It took 2 hours for the hairstylist to give me the look that I wanted and my hair took an hour to get their own way.
As I've been alive for decades, I've found enough time to ponder upon my hair. Being a management student, I've done a systematic research. Let's have a look at the research:
Current scenario:
Curly hair which looks same whether it's been cut by an expert stylist (who charged me a small fortune for it) or by me (very cost effective as I just hack my hair with kitchen scissors in the balcony. Don't ask me what my neighbors think of me when they see me doing it.)
Hair fall (As my hair grows, I tend to shed hair like a cat. I'm still trying to figure out if I'm a were-cat!)
Solutions tried:
Regular hair spa (Believe me, I have literally cried while paying for this. Had I invested this much money in real estate, I'd have made Donald Trump look like a puny)
Doctor treatments (Dermatologists don't do anything except robbing you blind. Their medications have never worked for me, nor I've seen it working for my friends. Mind you, I've visited more than one doctor)
Keep hair short (This works like magic. I don't lose hair when my hair are shoulder length.)
Using hair oil (I've tried all types of hair oil, including olive and home-made ones. I don't get anything except pimples, even on my hairline)
Conclusion:
After trying these many things for the hair I want, I've nearly given up. I think God wants me to be content with the lot that I've been dealt with. Consequently, many times I cut my hair on my own or go to a saloon if I want to be happy for a day or two. For hair fall, I keep on growing hair until the hair fall is manageable. The day I start worrying about the rate of hair fall, my scissors need exercise!
This post was written for
#DovePlay
held by
Dove
in association with
Indiblogger.in