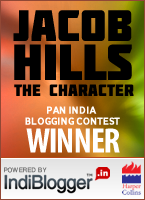 Annie Christian was late for work and that was a first for her. She was working for Cold Coffin Box service since last 3 years and she had never ever been late until now. Grumbling under her breath, she hurried to her desk. She looked at the clock hanging on the wall behind her desk. It was 5 past 10 pm. She was late by 5 minutes due to that bloody bus. Why couldn't the bus arrive at time for once? Was it too much to expect? Usually she used to start for work at 8 pm, quite ahead of time given the distance between her home and the morgue because she simply hated being tardy. However, today she couldn't escape from home at time due to the unexpected arrival of guests.
Bloody morons! All of them were stupid. Just because they looked good, they thought they owned the world. How much more moronic you can get by thinking like that?
Just contemplating about those dorks made Annie's blood boil.
"Hey Annie! Wow, today you are late! Breaking news!" Anand's high-pitch, shrilly holler pulled Annie out of her angry musings.
"What?" Annie couldn't keep the bite out of her tone. She hated to show any of her emotions to anyone.
"Well, you are late today. Since I joined 2 years back, I have never seen you being late. So I just thought to ask you about it." Seeing the smirk on Anand's face, Annie wanted to smash his face into thousands of little pieces with a good, strong hammer. She detested Anand, who thought he was God's gift to the women race with his fair, unblemished skin, and strong body. He was also 6 feet tall and quite muscular, earning him quite a bit of female fan following around the hospital.
Seeing Annie casting a dark look at him, Anand's delight peaked. He loved to provoke Annie, whom he had privately nicknamed as Hideous Hyena. His nickname for Annie may sound harsh to anyone who didn't know her but if they saw her once, they would agree with him. Alas, how much more ugly you can get than Annie? Even though Annie always dressed in full sleeved salwaar suit, Anand suspected her whole body was strewn with acne, given their presence on her face, neck and even the back of her hand. And each of those acne was as big as marble ball, bright pink in color and most of them full of pus cells. He wondered if she will bleed blood or white pus if she cuts herself up. Even her skin was horrid, all coal black and shiny and displaying polka dot design with those huge acne all over.
"So why were you late today?" Anand had no intention of letting this golden opportunity to needle Annie go waste. Although she never reacted to his taunts verbally, Anand was sure Annie was steaming with ire internally. Her eyes were already throwing daggers at him. When Annie didn't reply second time to his taunt, he decided leave her alone and instead let others know of Annie's tardiness. They will be absolutely delighted; alas, they were tired of Samir, their boss, giving example of Annie's punctuality. She had never been late until today. She even came on time during the typhoon last year. He had no idea how she managed it but manage she did.
Seeing Anand strut off with an arrogant sway, Annie heaved a sigh of relief. Anand was a huge gossip monger. She knew he wouldn't waste a minute in letting all others know that she was late. Anyway, he can do whatever he wanted; she had work to attend to. Booting up the computer, she started her work. She had already lost precious 5 minutes by being late and another 10 minutes because of that douchebag Anand. Today her schedule was full. As it was the month end, she had to create a report of all the expenses of the department and submit it to the hospital's administration department. Collection of the data alone would take around 5 hours and then there's the creation of the report. She would probably have to stay back after her shift even though she hated being at work after 6 am in the morning.
Night shifts suited her the best. During daytime she liked to hole up in her bedroom reading sweet romantic novels, novels that had dashing heroes going crazy after beautiful heroines. Every time she read those novels, her heart always got full with luscious yearnings: yearnings to be adored like a princess, yearnings to be cosseted like a precious gem, yearnings to be loved like the other significant half of the heart. But she knew that was not possible. She was an ugly duck to those gorgeous heroines; she was an ugly coal compared to those sparkling gems of women race. And even if she wanted to ignore her physical shortcomings, nobody let her forget it
—
including her father, former teachers and classmates, relatives and colleagues. Although her poor mother never said anything about her looks, she knew that she was disappointed in her; she could see that clearly in her mother's pitying looks cast on her when her mother thought she wasn't alert. To get rid of her acne vulgaris, her mother had gone against her father's wishes and had taken her to several skin doctors, including top-notch specialists. However, nothing had worked. Still her whole body, including her privates, was covered with big acne. And apart from looking grotesque, those acne were painful too. They would itch, itch and itch; night and day; every hour, every minute. Even if she didn't scratch, many times those acne would burst on their own and emit white pus with burning sensation. And the story didn't end there usually. After emitting pus, those acne will again swell but with blood this time, and then they would burst again without any help from her. It was especially painful when the acne on her backside burst. Many times she couldn't sleep on her back due to those acne and would have to sleep on her stomach.
Annie was jarred from her reflection by the ringing of the phone on her table. The call was from the administration department asking when will they get the expenses report from her. Telling them they will get it within 2 days per the current rules, she slammed down the receiver. Today, everything was going wrong. First of all, those ghastly relatives poking their nose in her life, then Anand taking up her case and now these administration people. Today was simply not her day. Thinking to take a coffee break, she started moving to canteen. Just then the door to the morgue opened and Bhima came out.
"Madam, do you know whose body we have received today for the preservation?"
"No, I haven't got the time to check that, Bhima. Whose body it is?"
"It's of Sameer Khan. That famous movie star. Today morning he died of sudden heart attack. Can you imagine having a heart attack at the age of 34? Anyway, we have to preserve his body for 2 days for his mother is out of the country. Didn't you see that on the news today?"
"I know that he died today morning but didn't know he was going to be shifted to the morgue."
"What are you doing Madam? This is the first time we have got such a personality in the morgue and you are totally unaware of it. Go and see for yourself."
"Yes, I will go and check it after my break. Lock the door and give me the keys. We don't want any unauthorized person entering the morgue, least of all today."
Stuffing the keys in the pocket of her kurta, Annie went for her cup of coffee. As soon as she entered the cafeteria, people started snickering and whispering. Annie ignored them as people always behaved like that whenever she was around. Either they would stare or snicker. Nothing new in that. Buying a cheese sandwich with hot, strong cup of coffee, she sat on the corner table so that she could observe everyone. As she never had a single soul to call friend, she always consoled herself by observing people. The way they interacted with each other: the movement of their eyebrows, the way they moved their hands to express their points and the body language they unwittingly used were clear indication of their feelings on the topic. She also never forgot to notice their eyes. She firmly believed that the eyes of any person were the best talkers. No matter how much they lied and prevaricated, their eyes would speak the truth without fail. And if you could look at the lines around their mouth closely, you could be 100% sure. Once when she told about this observation to her mother, her mother had give her an odd look without saying anything.
As she passed through the morgue door while returning from her break, an odd tingle ran through her. Was it really Sameer Khan inside? How did he really look in real life? Was he as handsome as he looked on the screen? Maybe she should go and check him out. When will she get such a chance again?
Unlocking the main door, Annie entered the morgue and switched on the lights. She always hated visiting this room. It was always so cold. She knew she shouldn't mind the cold so much as this is the place where she has experienced most intense and beautiful moments of her life.
There. There he was lying on the stretcher in the middle of the room. Feeling like a mouse in front of a cat, she moved slowly toward it. The body was covered with white sheet. She removed the sheet to see Sameer's face. He looked so peaceful. So handsome. So beautiful with chiseled jaw and high nose. His lips were so full.
Annie was mesmerized and thrilled. With a thundering heart, she traced the shape of Sameer's lips, caressed his face lovingly. Was he as beautiful elsewhere? She lowered the sheet further to see. He was naked. Ah! What a sight! Just look at his muscles! Of course she had seen Sameer's six pack abs in Dhoka, his latest blockbuster, but she never imagined them to look so good in real life. And he didn't have a single hair on his chest. Did he shaved or waxed? Annie wondered inanely. Even his nipples looked inviting. She felt like licking them. Should she? Without giving another thought, Annie kissed his nipples. Her body rippled with excitement. Giving in to her urging, she started loving him. She kissed his lips, eyes, jaw, and shoulder. Her kisses started moving down. Ah, he was so wonderfully hard. How did it felt to feel to have such a body against one's body?
Making a decision, Annie locked the door of the room and removed her clothes. She was going to enjoy herself today. Climbing up on the stretcher, she stranded Sameer's hips. Oh god, he was the oasis in the desert of her life. And she was thirsty. She couldn't resist him any more than she could resist breathing. Annie started kissing him earnestly. Opening her mouth, she savored the taste of Sameer the same way any wine connoisseur would relish any vintage champagne. Placing kisses all over his body, she reached his manhood. For a minute she didn't know what to do. Then with a trembling hand, she cupped him. Oh, how wonderful he felt! The combination of silky skin and hard steel underneath her hand felt totally irresistible.
For the first time in her life, Annie knew what it meant to lust after someone. She felt a delicious flutter in the pit of her stomach and she started smelling herself. She knew what she wanted. Without hesitating further, she mounted him. Ah! She felt so loved and cherished. Surrounded by hard male strength, she could feel herself complete. This was what she was meant to have. Comfort from a beautiful male who didn't care about her looks, warmth to keep her soul alive, pleasure to keep the stress of life at bay. Like the way Sameer was offering her; the way he loved her and cherished her; the way he completed her; the way he blended her soul. Both of them raced to that cliff of oblivion and jumped into the abyss of pleasure. She saw the sun, moon and stars exploding with bright colors. She had witnessed nothing more beautiful than that moment in her life. Sameer was her soul mate. Today, Annie found the purpose of her life. Her better half. The most important person of her life.
Feeling elated and rejuvenated, Annie got dressed and left the room. Tomorrow she will wear a special dress for Sameer; a reel life hero who turned into a real life hero for her. May be she will wear matching earrings with that? Or some high heels? Life had opened so many possibilities for her. She simply couldn't wait for tomorrow to come.